Grande Forge Classic line
The forged steel balusters of the Grande Forge Classic Line offer a beauty rarely found in a railing system.
The Grande Forge Classic Line Series is born in the hearth of the forge. Therefore, this European system blends the nobility of solid brass with the rigor of forged steel.
Balustrading and security doors that are built with these elegantly proportioned balusters also have an intrinsic beauty. A beauty that is timeless and compatible, with both contemporary and also traditional interior decors.
All brass parts can be highly polished and also protected by a special lacquer. Therefore, this style of balustrading is to be for indoor use only.
However, there is a new addition to this famous range. This new range has central parts that are also supplied in a polished and lacquered Stainless Steel. The body of the forged steel balusters is raw steel and is also painted in matt black.
Furthermore, why not complete this beautiful forged steel balustrade system with a finial. With the beautiful and also intricate designs, the finials will add that perfect touch to your wrought iron project. Grande Forge offers a wide variety of different finials, also including ones made from stainless steel through to Crystals cut by STRASS SWAROVSKI®. Hence, the finials come in all sorts of shapes, sizes and also colours to suit your needs.
Lastly, whether your requirement is for a complete balustrade system or insert balusters for timber hand rails, the Grande Forge Classic Line however, will superbly add value and also high end appearance to your home.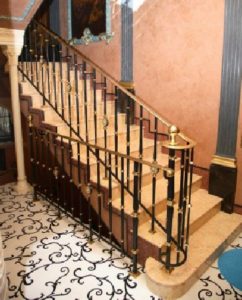 .
What will your fence look like?
Find out at www.viewmyfence.com
At Fence and Gate Supplies, we are dedicated in assisting our customers, especially in making your wrought iron balustrade system projects a reality. Most importantly, if you have any questions about our great ranges, please do not hesitate to get in touch with us. However, this can easily be done by going to the Contact section of our website. Furthermore, we would be more than happy to assist you.
Contact us with the following link:
https://www.fenceandgate.net.au/contact/
Fence and Gate Supplies Since: 1972
.