.
Gate Closers by

.
.
.
.
Locinox Gate Closers specifically work on the principle of a mechanical spring with a patented oil damping. Thanks to this oil damping, the functioning of the Gate Closer will be the same through the year and also during changing weather conditions. Furthermore, closing speed and also closing force are both adjustable and our Gate Closers can have a snap-close if you wish.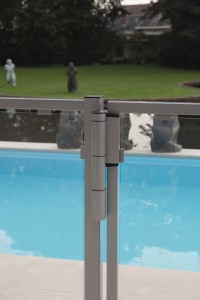 There are several models of hydraulic gate closers available:
Mammoth Gate Closer: Hydraulic swing gate closer and also bearing hinge in one. Designed for exterior use.
Easy and also fast to install thanks to the patented Quick-Fix fittings. The Mammoth-180 offers all the advantages of an efficient and also subtle, aesthetic gate closer with 2 adjustable closing speeds (closing speed and also free run) for a perfect closing of your gate.
Specifications:
180° opening angle
For gates up to 150kg
For gates up to 1,20m wide
Independent adjustments of the 2 closing speeds by means of 2 screws
Closing force adjustable
Easy to open: Max. 15 Nm of force
Avaliable in black or silver
Dino hinge included
Robust Design
Tested on 150,000 movements
Tested from -30°C to +60°C
Verticlose-STD Gate Closer/Verticlose-RAIL Gate Closer: The Locinox Verticlose Gate Closers are some of the finest gate closers available, designed specifically for outdoor use. Manufactured with stainless steel components.
These Locinox Gate Closers are recommended for heavy gates, such as those constructed of steel or wood. There, it is quick and also easy to install thanks to the patented Quick-Fix Fixings. The adjustable closing speed, closing force and also free run guarantee a perfect closing of the gate. Even in the most extreme conditions. Available in 2 version.
Most importantly, you'll never worry about whether you closed the gate again!
Verticlose-STD: for 180° hinge situations/Verticlose-RAIL: for 90° hinge situations
Specifications:
Maximum opening angle 90° (gate stop included)
For gates up to 80kg
Speed and also force adjustable by means of 2 screws
Adjustable final snap
Powdercoated, aluminium housing
Easy to open
Tested on 150,000 movements
Tested from -30°C to +60°C
.
Industrial Quality
Locinox products are by all means, of industrial quality. Even more, they are tested extensively by our R&D department in the most extreme circumstances.
Every product is also tested a minimum of 500,000 movements before bringing it to the market. Using Locinox products, specifically extends the life of your gates and also fences.
Ease of Installation
"Time however, is money", certainly in our industry. Therefore, this is why our products are easy to implement in your production process. Moreover, you will also save a lot of time when installing on site thanks to our Plug&Play design and also our patented Quick-Fix fixing system.
Lastly, Quick-Fix are pre-fitted on our products, your products will also be installed in a snap: just tighten them up, then that's it. Therefore, the patented Quick-Fix system ensures the firm fixing of our products.
.
At Fence and Gate Supplies, we are dedicated in assisting our customers. Especially in making your projects a reality. Most importantly, if you have any questions about our great ranges, please do not hesitate to get in touch with us. However, this can easily be done by going to the Contact section of our website. Furthermore, we would be more than happy to assist you.
Contact us with the following link:
https://www.fenceandgate.net.au/contact/
.
Many more Locinox ranges also available to suit your needs!
Fence and Gate Supplies since 1972