.
.
Small Ornamental Lock
LOCINOX Small Ornamental Lock for decorative wrought iron gates where space is a premium.
Small Ornamental lock with aluminium housing and also stainless steel mechanism. We advise this lock as a standard for all your ornamental gates. However, the 10 mm continuous adjustability of the bolts allows a perfect alignment of your locking mechanism. Most importantly, a solid stainless steel deadbolt with a 23 mm throw guarantees a secure locking. Standard supplied with "zamac" ornamental handle pair. Therefore the lock is also supplied with a standard "Euro" style cylinder to enable re-keying to match your house key by a locksmith.

Furthermore, the unique design of this small ornamental lock (along with it's big brother – Large Ornamental Lock) with its decorative featured handles and lock body also allows it to blend perfectly with your more unique custom made decorative gates. All without compromising your ease of use and also security.
Also available for double gates is a counter lock box to "balance" the looks of the two gates.
Lastly, if security is a high priority – consider using a security keep that prevents the gate from being forced open with a crow bar.
.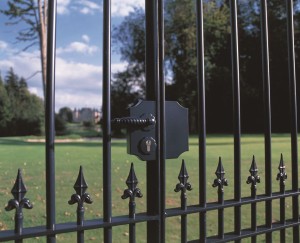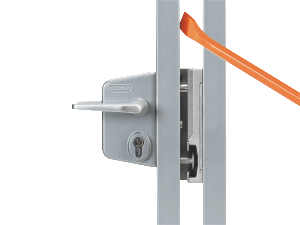 Specifications
Easy left or right changing of the self-latching bolt
Throw of the deadbolt, 23 mm in 1 turn of the key
Adjustment of the bolts up to 10 mm continuous without removing the lockbox
Key-operated self-latching bolt
4-hole fixing with two hexagon socket head screws
Center distance bolts: 60 mm
Features
Available in following RAL-colours
Industrial Quality
Locinox products are by all means, of industrial quality. Even more, they are tested extensively by our R&D department in the most extreme circumstances.
Every product is also tested a minimum of 500,000 movements before bringing it to the market. Most importantly, by using Locinox products, specifically extends the life of your gates and fences.
Ease of Installation
"Time however, is money", certainly in our industry. Therefore, this is why our products are easy to implement in your production process. Moreover, you will also save a lot of time when installing on site thanks to our Plug&Play design and also our patented Quick-Fix fixing system.
Lastly, Quick-Fix are pre-fitted on our products, your products will also be installed in a snap: just tighten them up, then that's it. Therefore, the patented Quick-Fix system ensures the firm fixing of our products.
Furthermore, Installations Booklet also available!
.
.
What will your gate look like?
Find out at www.viewmyfence.com
.
At Fence and Gate Supplies, we are dedicated in assisting our customers. Especially in making your projects a reality. Most importantly, if you have any questions about our great ranges, please do not hesitate to get in touch with us. However, this can easily be done by going to the Contact section of our website. Furthermore, we would be more than happy to assist you.
Contact us with the following link:
https://www.fenceandgate.net.au/contact/
.
Many more Locinox ranges also available to suit your needs!
Fence and Gate Supplies since 1972
.
.
.
.
.
.
.
.
.
.
.
.
..