.  
.
Locinox Swing Gate Locks
Swing gate Locks by Locinox – A range of locks to suit all your manual swing gates.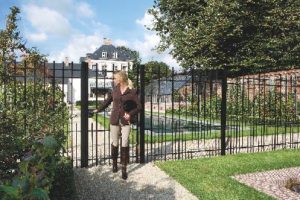 Whether you have a decorative wrought iron style gate or a heavy duty industrial gate we have swing gate lock to suit your need. For a variety of gate sizes Locinox can securely latch and also lock your gate. Locinox of Belgium, Europe have for the last 25 years concentrated on developing and also manufacturing the worlds best swing gate locks.
Quality built in!
From inception, Locinox have primarily used stainless steel and also aluminium in the swing gate locks to provide years of trouble free service. A unique feature on most of the swing gate locks is the ability to adjust the throw of both the tongue and also the bolt after installation. As standard, the swing gate locks are designed to be mounted through the gate style. There is also an optional surface mounting kit for most of the locks to enable the lock to be mounted on the face of the gate style. Either on the inside or the outside of the gate. Optional keeps (strikers) are also available to make installation easy.
Follow the links below for more information on each of the swing gate locks.
---

Industrial Lock            We advise this as your standard lock for all swing gates.
---

Free Vinci Lock – Secured entry and free exit.       Mechanical code lock with free exit.
---

Vinci Mechanical Lock.                    Mechanical code lock.
---

Electric Lock.                                     Handles are locked when under power.
---

Garden Gate Lock.                             Economical lock for domestic pedestrian gates.
---

Large Ornamental Gate Lock.         Ornamental lock for wrought iron gates.
---

Small Ornamental Gate Lock.         Lock for wrought iron gates with limited room.
---
What will your gate look like?
Find out at www.viewmyfence.com
At Fence and Gate Supplies, we are dedicated in assisting our customers. Especially in making your projects a reality. Most importantly, if you have any questions about our great ranges, please do not hesitate to get in touch with us. However, this can easily be done by going to the Contact section of our website. Furthermore, we would be more than happy to assist you.
Contact us with the following link: