Grande Forge Modern Balustrade Line
A contemporary balustrade design is found in the Grande Forge Modern Line.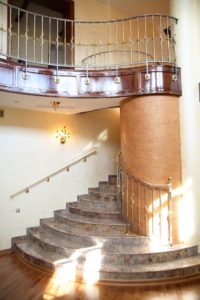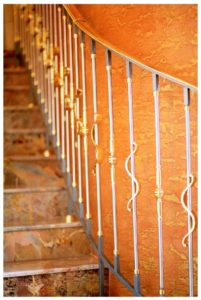 .
.
.
.
.
.
.
.
.
.
.
.
.
If your taste is for a more contemporary design with a modern look, then this is for you! With its different finishes to suit any taste, the Grande Forge Modern Balustrade Line will harmonize with any modern home.
The bodies of these solid brass railings, modern balusters and posts have a stainless steel satin finish and are also polished and lacquered. However, they are mounted with round or square steel end pieces, allowing for the assembly of the railing by welding. Therefore, these are for indoor use only.
A modern balustrade style BL 178 R*/BL 178 K* has a beautiful glass ball finial, mouth blown by a master craftsman, completes the look of any staircase handrail.
Furthermore, the modern balustrade line handrail can also have a sparkling crystal cut by STRASS SWAROVSKI included, and can also become a real family heirloom. Even more, the shimmering gold handrail gives splendour. It looks great in contemporary and also classical models.
FGS Australia with their range of balustrade systems from Europe can also make your home stand out as an example of balustrade excellence.
What is Grande Forge?
Grande Forge Modern Line is one of the more contemporary balustrade designs offered by Grande Forge of France. Even more, the company is a world leading manufacturer of many types of balustrade systems. These systems range from unique natured inspired ironwork, all the way through to the more comtemporary balustrade design that will will harmonize with any modern home of the Grande Forge Mozart Line.
However, whether you are a professional designer or an end user, Grande Forge offers you unlimited opportunities. Therefore, to incorporate these traditional and also modern styles into special settings!
What will your fence look like?
Find out at www.viewmyfence.com
At Fence and Gate Supplies, we are dedicated in assisting our customers. Especially in making your wrought iron balustrade system projects a reality. Most importantly, if you have any questions about our great ranges, please do not hesitate to get in touch with us. However, this can easily be done by going to the Contact section of our website. Furthermore, we would be more than happy to assist you.
Contact us with the following link:
https://www.fenceandgate.net.au/contact/
.
Many more Grande Forge ranges also available to suit your needs!
Fence and Gate Supplies since 1972