Description
  Ornamental Gate Lock
LAKQ H2
Large ornamental gate lock
Locinox large ornamental gate lock with aluminium housing and stainless steel mechanism. We advise this lock as a standard for all your ornamental gates. The 20 mm continuous adjustability of the bolts allows a perfect alignment of your locking mechanism. A solid stainless steel deadbolt with a 23 mm throw guarantees a secure locking. Standard supplied with zamac ornamental handle pair.
Easy left or right changing of the self-latching bolt
Throw of the deadbolt, 23 mm in 1 turn of the key
Adjustment of the bolts up to 10 mm continuous without removing the lockbox
Key-operated self-latching bolt
4-hole fixing with two hexagon socket head screws
Center distance bolts: 60 mm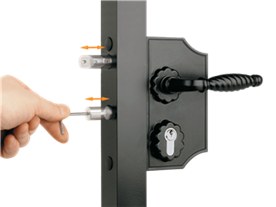 NOTE: Keep, if required, is sold separately.
What will your gate look like?
Go to www.viewmyfence.com