HOW CAN TEMPERATURE HAVE AN EFFECT ON YOUR GATE CLOSER?
The bearing strength of a gate closer is an important element. But did you know that temperatures can have an effect on the closing speed of your gate closer?
Gate closers are exposed to extremely variable weather conditions: cold in the morning, hot at noon, freezing in winter, etc.
A hydraulic gate closer operates through the combination of a spring and hydraulic oil. This oil is susceptible to outdoor temperatures, and also thickens as temperature lowers.
If this problem isn't solved, the closing times of the gate closer can rise sharply, or the gate closer might stop functioning.
The perfect closing time for a gate closer (for a 90° opening angle) is 7 to 15 seconds. This is called the 'comfort zone'. However, if the closing takes longer, it might represent a problem for safety. Shorter is no option either, because the gate would slam, so you wouldn't be able to easily go through the gate.
Many solutions available on the market do not match our objectives: gas springs are too sensitive, and small gate closers are also extremely hard to adjust.
Therefore, Locinox gate closers perfectly solve this problem, and also make sure your gate always closes within the comfort zone. Thanks to a patented hydraulic damping, a Locinox gate closer adapts itself, even in extreme temperatures. We can thus guarantee that the gate closes steadily, without the necessity to adjust the gate closer.
.
LOCINOX TESTED IT!
Furthermore, to make sure that our gate closers comply with our promise, we submit them to extensive tests before and after market launch. Only because of this permanent monitoring we can guarantee you the best quality! We compare the closing speed of our gate closers with similar products by other manufacturers.
How was the test performed?
All the gate closers were set at room temperature. Next, they were exposed to temperatures from -30°C up to +70°C, and also measured the closing speed at a 90° opening angle.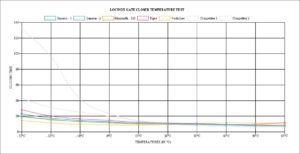 https://www.fenceandgate.net.au/wp-content/uploads/2017/08/Gate-Closers-Sml.jpg
397
390
Andrew Chugg
https://www.fenceandgate.net.au/wp-content/uploads/2017/04/FGS-Unifence-Galaxy-Logos-3-1.jpg
Andrew Chugg
2018-01-19 09:29:18
2018-01-19 09:45:25
HOW CAN TEMPERATURE HAVE AN EFFECT ON YOUR GATE CLOSER?